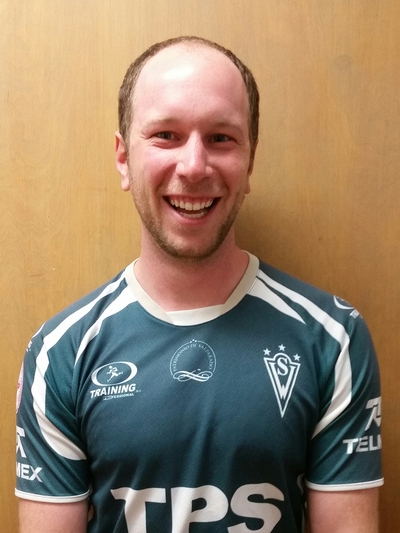 Joshua Stone
Former Postdoctoral Researcher
Education
Ph.D. in Marine Science, Virginia Institute of Marine Science, College of William and Mary, 2016
B.S. in Biology & Spanish, Messiah College, 2010
Research Interests
As a zooplankton ecologist, my research focuses on population changes in zooplankton communities.  I am interested in discovering what environmental drivers, both natural and anthropogenic, cause short- and long-term changes in zooplankton abundances and changes in a plankton community's species composition.  Additionally, I study what implications those population changes have for trophic interactions (what zooplankton eat and what eats them), as well as biogeochemical cycling (how nutrients move through a system).  I use a combination of time-series datasets and experiments to analyze these changes and their effects.
Current Research
My current project centers on the Lake Erie ecosystem.  Lake Erie has been continuously changing over the last 100 years from increases and decreases in nutrient inputs, warming climate, and a wide variety of invasive and introduced species.  How these changes have affected the zooplankton in Lake Erie have been poorly documented, and I seek to understand how zooplankton communities have responded to these environmental drivers.  Primarily, I am analyzing the long-term Lake Erie Plankton Abundance Study (LEPAS) to see how plankton populations have changed in the past and use that understanding to better predict how populations will change in the future.  These results will have wide-ranging management implications for recreational and commercial fisheries, restoration efforts, and pollution reduction in Lake Erie and other Great Lakes. 
Past Research
My previous research was primarily focused on utilizing time-series datasets to characterize seasonal and long-term changes in jellyfish populations in the Chesapeake Bay and Sargasso Sea.  In the Chesapeake Bay, I found that long-term decreases in one species of predatory jellyfish (Chrysaora quinquecirrha), due to changes in spring hypoxia, is leading to cascading effects down the food web, allowing another species of jellyfish (Mnemiopsis leidyi) to increase.  In the Sargasso Sea, I found that populations of the dominant jellyfish (salps) have been stable over the last 20 years, but species composition has changed slightly.  Additionally, I conducted experimental and modeling projects in the Chesapeake Bay and Sargasso Sea to determine the contributions that jellyfish make to vertical carbon flux. 
Publications
Stone, J.P., D. K. Steinberg. 2016. Salp contributions to vertical carbon flux in the Sargasso Sea. Deep-Sea Research I, 113: 90-100.
Stone, J.P., D.K. Steinberg. 2014. Long-term time-series study of salp population dynamics in the Sargasso Sea. Marine Ecology Progress Series, 510:111-127.
Lefcheck, J.S., M. A. Whalen, T. M. Davenport, J. P. Stone, J. E. Duffy. 2013.  Physiological effects of diet mixing on consumer fitness: a meta-analysis. Ecology, 94(3):565-572.
Fisher, T.R., T.E. Jordan, K.W. Staver, A.B. Gustafson, A.I. Koskelo, R.J. Fox, A.J. Sutton, T. Kana, K.A. Beckert, J.P. Stone, G. McCarty, M. Lang. 2010. The Choptank Basin in Transition: Intensifying Agriculture, Slow Urbanization, and Estuarine Eutrophication, Ed. Michael J. Kennish and Hans W. Paerl. Coastal Lagoons: Critical Habitats of Environmental Change. CRC Press, 135-165.
Stuckert, A.M.M., J.P. Stone, J.R. Asper, M.G. Rinker, C.L. Rutt, N.C. Trimmer & E.D. Lindquist. 2009. Microhabitat use and spatial distribution in Picado's Bromeliad Treefrog, Isthmohyla picadoi (Anura, Hylidae). Phyllomedusa, 8(2):125-134.